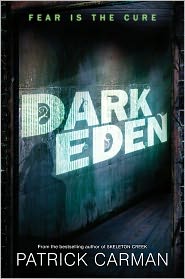 Thanks to HarperTeen, I have 10 Dark Eden Fear Test CD-ROMs to give away! One of the 10 winners will also get a Dark Eden T-shirt (
size M), and another will win a Dark Eden lanyard along with their CD-ROM.
To enter the contest, you must fill out this form, but here are the rules:
You MUST leave your email address, name, and check the box saying whether you're either an old or new follower, or not a follower at all.
Extra Entries
Advertise contest:
+2 – link giveaway on sidebar and/or Tweet
+4 – blog post about contest
Contest ends November 18, 2011.
The contest is for people living in the US and Canada only, unless you live somewhere else but are able to use a friend or family member's address.