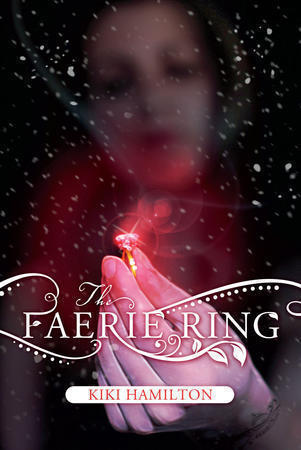 Description:
Debut novelist Kiki Hamilton takes readers from the gritty slums and glittering ballrooms of Victorian London to the beguiling but menacing Otherworld of the Fey in this spellbinding tale of romance, suspense, and danger.
The year is 1871, and Tiki has been making a home for herself and her family of orphans in a deserted hideaway adjoining Charing Cross Station in central London. Their only means of survival is by picking pockets. One December night, Tiki steals a ring, and sets off a chain of events that could lead to all-out war with the Fey. For the ring belongs to Queen Victoria, and it binds the rulers of England and the realm of Faerie to peace. With the ring missing, a rebel group of faeries hopes to break the treaty with dark magic and blood—Tiki's blood.
Unbeknownst to Tiki, she is being watched—and protected—by Rieker, a fellow thief who suspects she is involved in the disappearance of the ring. Rieker has secrets of his own, and Tiki is not all that she appears to be. Her very existence haunts Prince Leopold, the Queen's son, who is driven to know more about the mysterious mark that encircles her wrist.
Prince, pauper, and thief—all must work together to secure the treaty…
My thoughts:
If it is revealed that a story takes place in the 1800s, while a lot of girls run towards that book, I just try to avoid the stampede and run the other way. It's just not my thing. Even when I like a book that takes place during that time, it's because I didn't have to deal with an overbearing setting where everyone wears a suit or a dress, and everyone talks like they're speaking sonnets to everyone. Thankfully, I did actually like this book despite it's setting.
Tiki is of course one of those characters who doesn't know who or what she is. So in comes the love interest that just so happens to know a little more about her than he should. Pretty standard. But adding a Faerie ring that two different worlds are after and a group of adorable orphans, and you've got yourself an interesting story!
First you think the ring is the only problem the characters have to deal with, but then another problem steps up, and then another one, etc.

But even at the end of the book you know the main problem isn't over (which is actually exciting). Because there are still faeries out there who don't want peace. And something about Tiki is revealed in the end that I as well as some of the characters were never expecting, that should (or will) make for an interesting sequel. This book was good but the series could be great if the author does what I hope she's going to do with Tiki's character in the next book!
Additional note: And how cute was Clara?! Don't answer that, because she was extremely cute. I just wanted to get that girl cough syrup and some soup (because she was sick...not because I normally like to give children cough syrup...).